TAILOR-MADE SUPPORT TO MEET YOUR AUTOMATION NEEDS
DIAGNOSIS - ANALYSIS - PRESCRIPTIONS
AUTOMATE YOUR PROCESS
You plan to automate all or part of your process ? You wish to be accompanied in the conduct of the project ? MECACONCEPT CANADA helps you to realize your industrial project. Our team brings you its experience and know-how to help you design, decide and act…. Benefit from a 360° view of the industry of the future!
Identify automation opportunities to increase your productivity
Modernize your production process and/or your end of line
Increase your production or storage capacity
Integrating new equipment (machine / robot) into the existing one
Strengthening quality control in your production process
Replace equipment that is out of breath
Relieve operators from repetitive tasks, without added value or generating musculoskeletal disorders (MSDs)

Moving from an R&D project to the in stage
LET YOURSELF BE GUIDED BY OUR ADVISORY EXPERTISE
MECACONCEPT Canada,
customized support
Based on Montreal QC, we operate in your request on all or part of the following points:
Carrying out on-site diagnostics: Data analysis, field observation, identification of constraints
Operations identification

who are eligible for automation

Writing the specification

Search for technical solutions
Preliminary budget estimate
Assessment of potential R.O.I
Drafts, 3D CAD / technical files
Carrying out feasibility studies; and prototyping
You can challenge us on one or more services. You decide! Good to to know: we can also accompany you during the following stages such as the manufacture of custom-made equipment
Our approach is based on a proven methodology that takes into account many criteria
Issues, objectives and expectations
Human, technical and financial resources
The schedule
State of the art
Uses, innovation
The return on investment etc...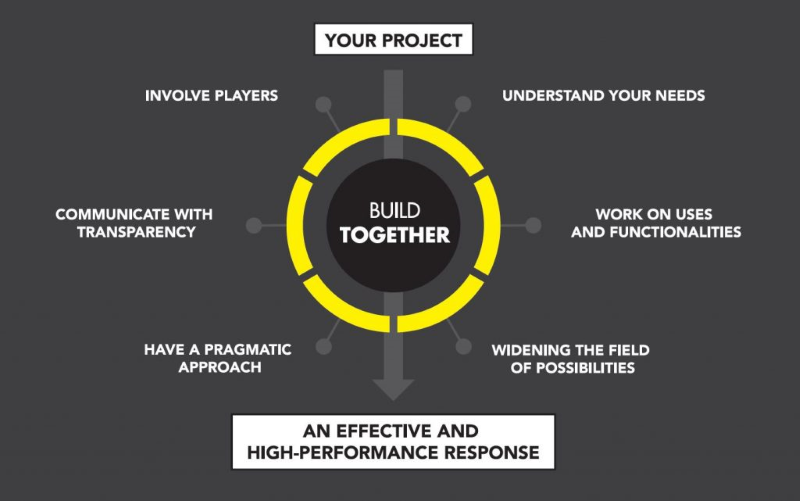 MECACONCEPT, A 360° LOOK AT THE INDUSTRY OF THE FUTURE
Multi-sector knowledge, a multi-disciplinary support team
MECACONCEPT Canada is above all a dynamic team, seasoned and passionate about technology.
Thanks to its cross-disciplinary expertise in mechanics, robotics, automation, vision and industrial computing, MECACONCEPT is able to support you on complex projects in:
Design and manufacture of special machines,
Automation and robotic integration,
Integration and development of vision system,
Integration and development in industrial IT
MECACONCEPT Canada benefits from the support and expertise of its parent company MECACONCEPT France. For 30 years, it has supported major international groups in the aeronautics, automotive, food, pharmaceutical and chemical sectors. The MECACONCEPT France and Canada teams are familiar with the requirements and constraints related to each of these sectors of activity.
Cycling industry: support for a project to Set up new production units and reorganize intra-logistics flows
Pharmaceutical industry: recommendations and preliminary draft on the optimization of end-of-line flows and the management of automated palletization (conveyors/autonomous shuttles/collaborative robots/robotized palletization cells)
Mechanical industry: Feasibility study of part inspections using 3D vision
Manufacturing industry: plate handling then conveying for insulation injection- consult the use case
You have an idea ?
you wish to be assisted for your project
contact-us !
USE CASE - TECHNICAL SUPPORT
OUR PHILOSOPHY
"Assist you in the search for pragmatic and adapted solutions that will take into account the maturity of your teams, the R.O.I and the pace of change you envisage."
Sébastien NIVET, CEO
AUTOMATED HANDLING OF LARGE SHEETS
INITIAL STATUS
Manual handling of large plates causing musculoskeletal disorders (MSDs)
Low value-added operation requiring 2 people simultaneously for 50% of their time
Slowdown in production: this position has been identified as a bottleneck
ANALYSIS & LOOKING FOR SOLUTIONS
Study of data: rate of 150 workstations/day - variable characteristics (25-35 kg for 60-100 in)
Constraints: dusty environment (wood cutting) - limited space
Finding solutions
PROPOSAL OF A PRE-BUDGETED TECHNICAL SOLUTION
Detailed description of functions and 3D rendering as a preliminary design
Preliminary budget: 89000 CAD
Estimated ROI: 2.38 years
Identification of funding assistance