WHO ARE WE ? | OUR VALUES
We are committed to building a relationship of trust with our customers and suppliers. By choosing us as your partner, you are relying on the professionalism of a team of enthusiasts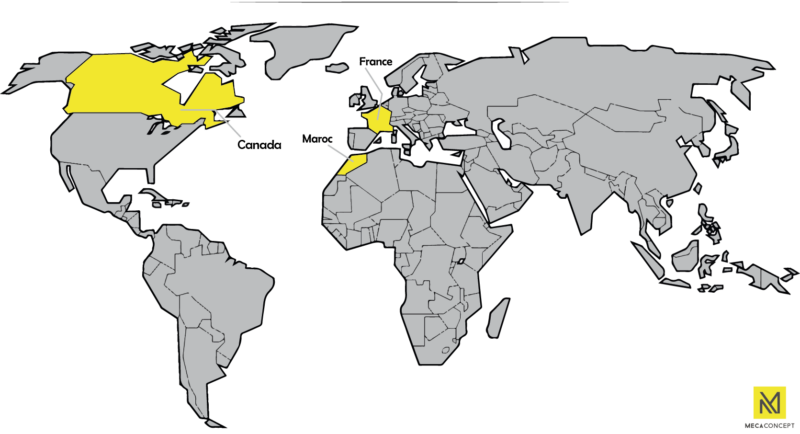 A LOCAL PRESENCE - THE STRENGTH OF A GROUP
Designer and manufacturer of tailor-made machines since 1992 in France, MECACONCEPT equips and supports major clients in the aeronautics, agri-food, pharmaceutical and automotive sectors. Its fields of expertise cover a wide range of current industrial needs such as process automation and the production of robotic lines integrating vision and industrial computing. In 30 years of existence, MECACONCEPT has become a recognized actor of the Industry of the future with an international influence.
In 2022, in order to offer a unique close relationship to its customers on the North American continent. MECACONCEPT has opened a new subsidiary in Montreal. MECACONCEPT CANADA INC has for vocation to offer products and services in the fields of automation, robotics and industrial vision. MECACONCEPT CANADA INC is committed to supporting its customers in their projects over the long term. It places particular importance on building relationships of trust and relies on its network of local partners to allow a high level of responsiveness.
PPROFESSIONALISM &HUMAN VALUES
At MECACONCEPT Canada, you will not find any catalog products to buy on the shelves. Our offer is based on the professionalism of our team in advising and supporting you on industrial investment projects. This is why we are very committed to building a lasting relationship of trust over time.
This trust that you place in us is essential. It is an important responsibility that drives us in each of our missions. It pushes us to continually be demanding of ourselves and our partner companies.This search for excellence is reflected in our constant desire to offer you reliable and agile solutions over time.
In our profession, we have to examine complex subjects from different angles and without ready-made ideas. Our search for solutions prompts us to follow, study and compare different technological innovations to make you benefit from the most relevant ones. With this in mind, we encourage a corporate culture based on passion for technology,the taste for innovation and knowledge sharing. We support a culture of employee empowerment while fostering collaboration andteam spirit. For us, these are values ​​deeply engraved in our DNA.
We keep in mind this maxim of Henry Ford "The two most important things do not appear on the company's balance sheet: its reputation and its people". At each mission, we are committed to convincing you.